How tall are the characters in Attack on Titan?
While there are no explicit indications of the characters' heights in Attack on Titan, some evidence can help determine their stature. In season 1, Eren Jeager and Mikasa Ackermann are roughly 5'7″, while Armin Arlelt is 5'4″. However, by season 4, most of the main cast have grown during the four-year time skip between seasons 3 and 4. Eren is now 6'0″, Mikasa 5'8″, and Armin 5'5″.
Other characters who experienced noticeable growth during the time skip include Connie Springer, who went from 5'2″ to 5'9″, and Jean Kirschtein, who went from 5'9″ to 6'2″. The nine Titans that appear in the series also have varying heights, with Ymir's Jaw Titan standing at 5 meters and Armin Arlelt and Bertholdt Hoover's Colossal Titan towering at 60 meters.
Despite its wide cast and frequent reshuffling of essential characters, some characters have made a lasting impact on the show.
Eren Jeager

At the start of the first season, Eren Jeager is depicted as a small child. However, as the season progresses and Eren reaches the age of 15, he grows to a height of 5'7″ (170.2 cm).
In the time skip between the third and fourth seasons, Eren undergoes a noticeable growth spurt. By the time he appears in season 4, he stands at an impressive height of 6 ft (182.9 cm), having reached the age of 19.
In his Titan form, Eren towers over other Titans, measuring approximately 15 meters tall. This estimate is based on his relative height when interacting with other Titans.
Mikasa Ackermann

Throughout the first three seasons of Attack on Titan, Mikasa Ackermann shares the same height as Eren, standing at 5'7″ (170.2 cm). Like Eren, she also ages during the time skip, but her growth is limited to reaching a height of 5'8″ (172.7 cm).
Despite appearing shorter in comparison to several male characters, Mikasa is the tallest female protagonist in the series. While her physical build may cause her to seem smaller, she remains the same height as Eren for the majority of the first three seasons.
Notably, Mikasa's physical strength surpasses most of the other female characters in the series, even if she may not appear as tall.
Armin Arlelt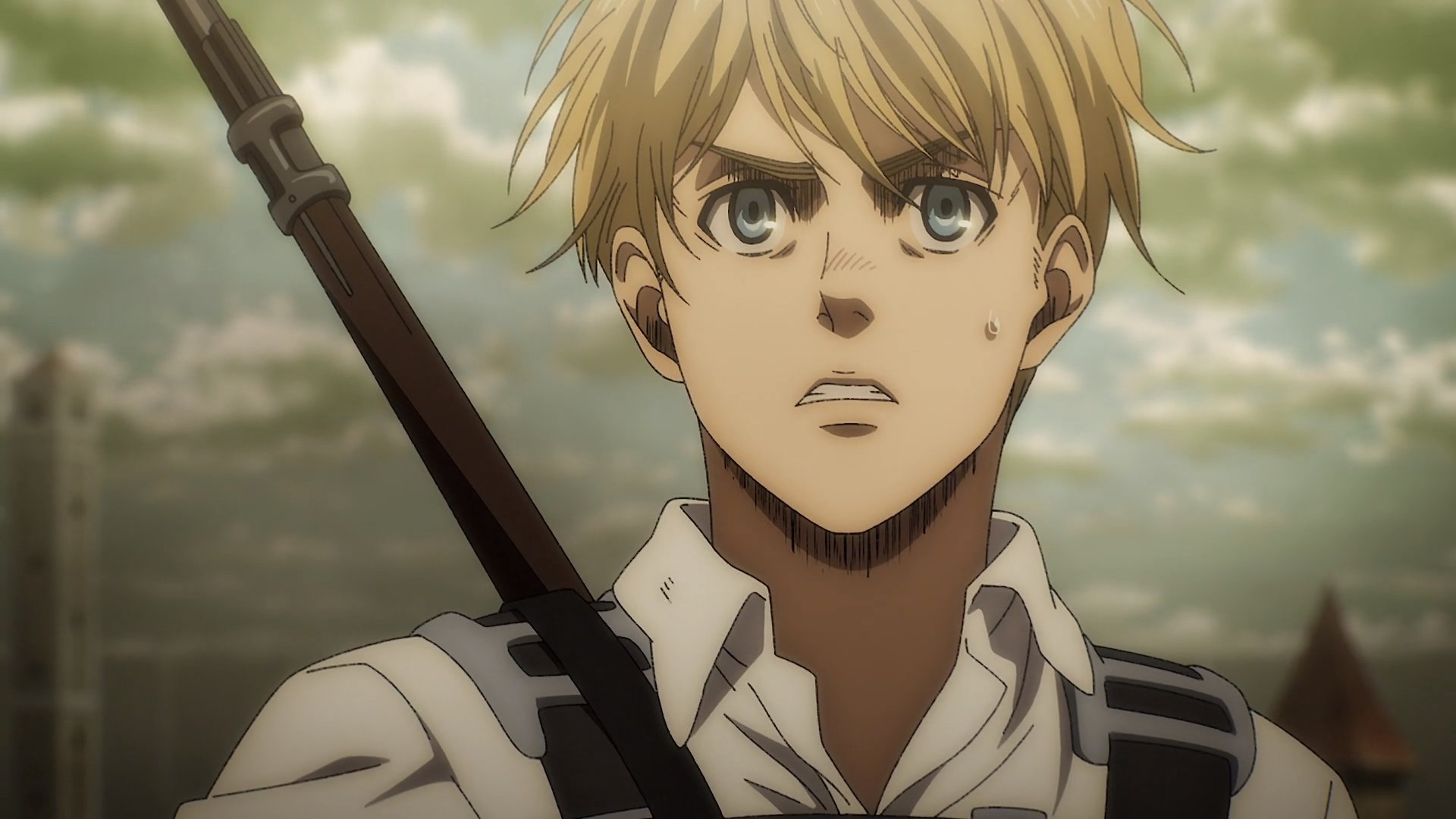 Armin, the shortest among the central trio in the series, stands at a height of only 5'4″ (162.6 cm). His height increases only slightly in season 4, with him growing to 5'5″ (165.1 cm).
While Armin's growth may be less noticeable than that of Eren and Connie, his physical appearance undergoes significant changes, with his hair being cut shorter and his outfit undergoing a complete transformation.
However, Armin's short stature is compensated for in his Colossal Titan form, which is just as tall as when Bertholdt was in possession of the same form.
Levi Ackermann

Throughout the show, Levi's height is often the subject of comedic remarks. Despite this, he is a formidable fighter and holds his own in battles.
As one of the more mature characters in Attack on Titan, Levi Ackermann maintains a height of 5'2″ (157.5 cm) consistently throughout seasons 1 to 4.
Unlike other characters who are shorter due to their genetics, Levi's height can be attributed to his poor upbringing during childhood.
Erwin Smith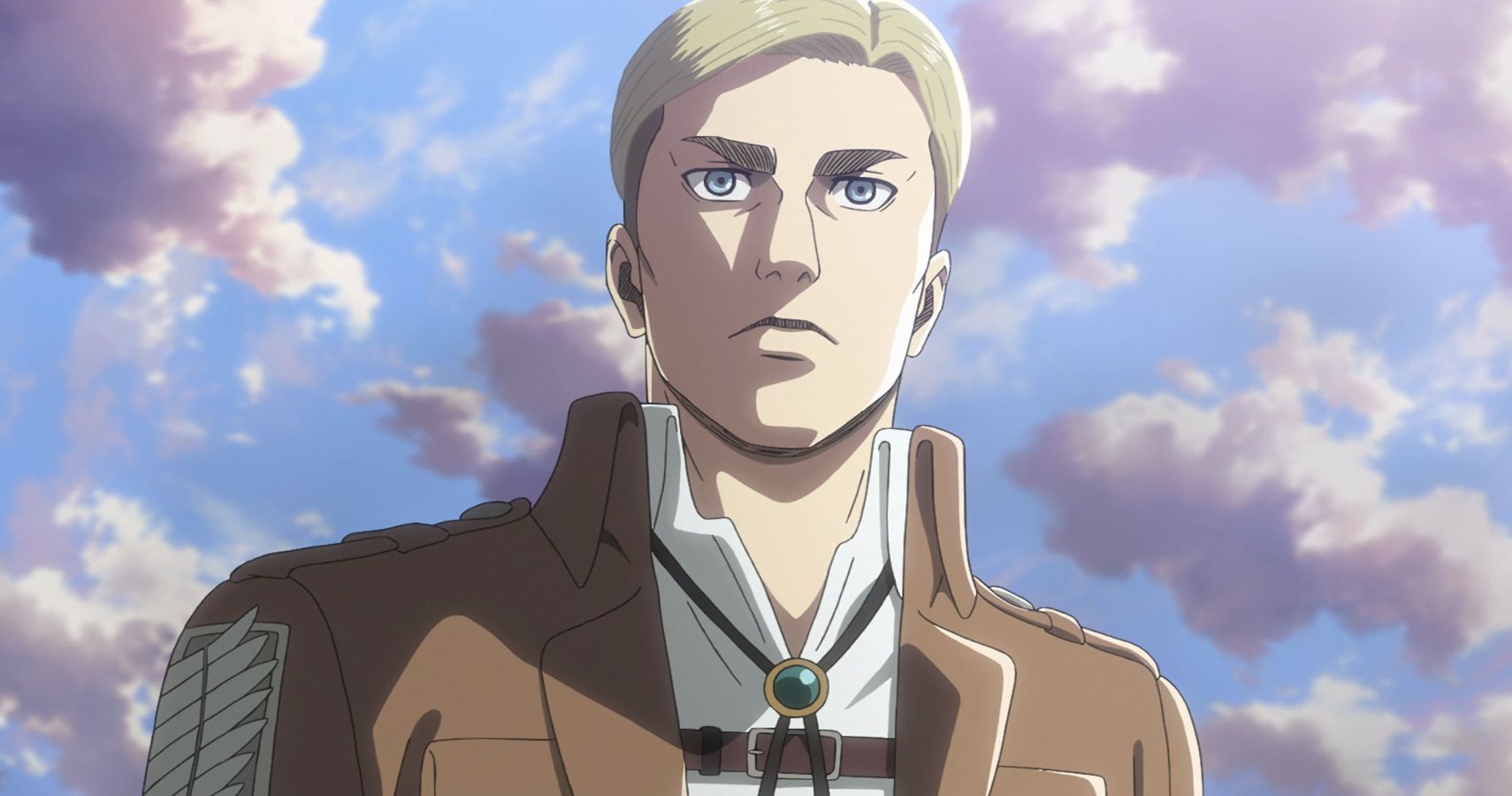 Erwin Smith's height is a reflection of his commanding personality, as his character is designed to exude authority and power.
As a commander, Erwin stands tall at a height of 6'2″ (188 cm), making him the second tallest hero on the human side before his untimely death.
Bertholdt Hoover

Prior to the revelation of him being a Colossal Titan, Bertholdt doesn't stand out much as a character, except for his height, as he towers at 6'4″ (193 cm).
However, in his titan form, Bertholdt's height surpasses that of most other Titans, as he grows to be roughly 60 meters tall.
Hange Zoe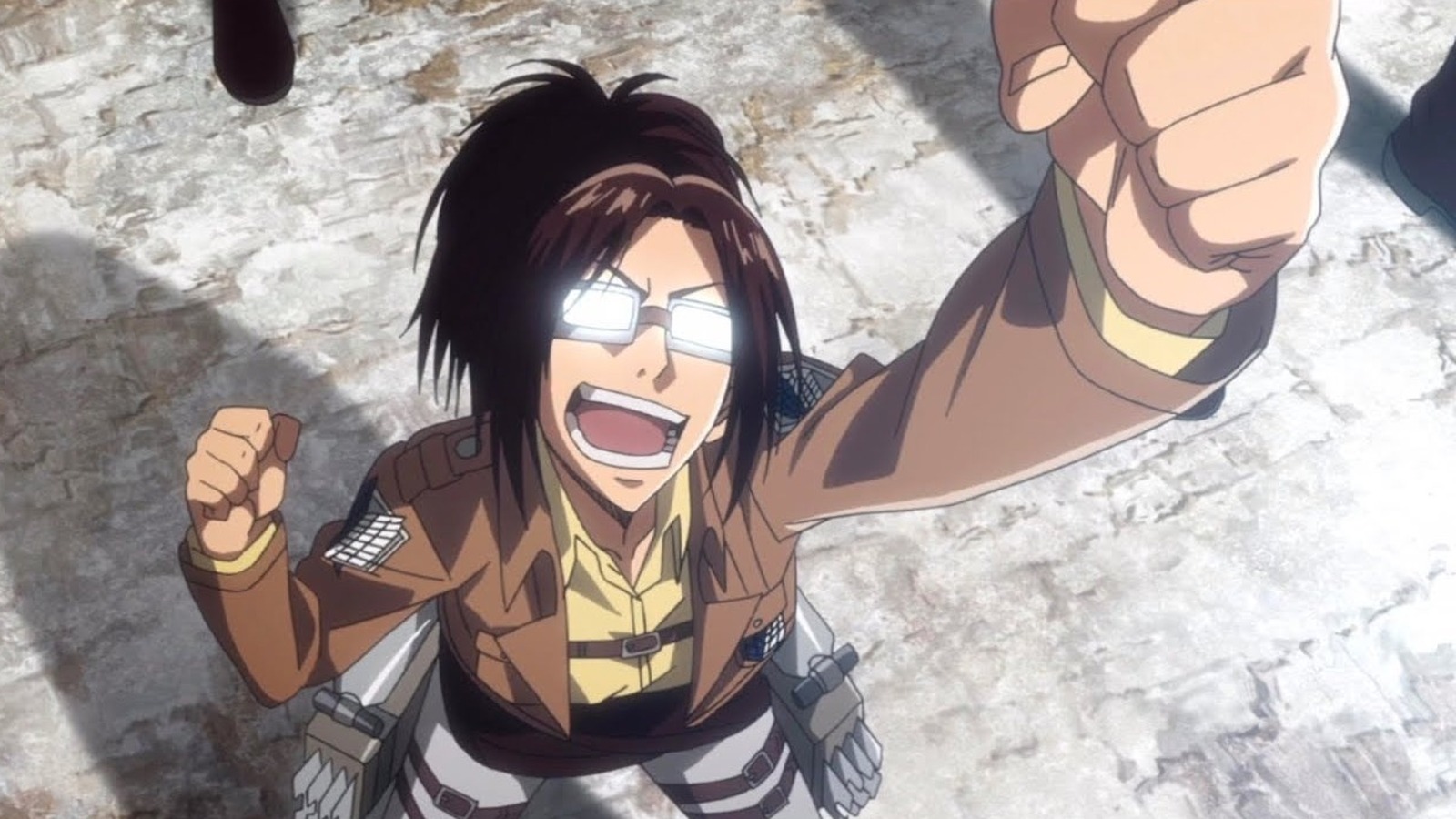 Hange shares the same height as Eren and Mikasa throughout seasons 1 to 3, with a height of 5'7″ (170.2 cm). While Hange makes an appearance in season 4, the character hasn't undergone any significant growth like some of the others.
Despite being of average height, Hange still pokes fun at Levi for his short stature. However, this teasing is often in reference to Levi's personality rather than a means of degrading him.
Historia Reiss

Historia, standing at a height of 4'7″ (139.7 cm), is the shortest among the older characters in the Attack on Titan series – even shorter than Levi.
Despite her small stature, Historia's importance and heroism are not diminished in the series, and her height is often discussed.
Although Historia is the same age as Eren and Mikasa in season 1, at 15 years old, her growth is not noticeable in season 4. While she is assumed to have grown due to her age, it's unlikely that she is taller than 4'9″ (144.8 cm).
Jean Kirschtein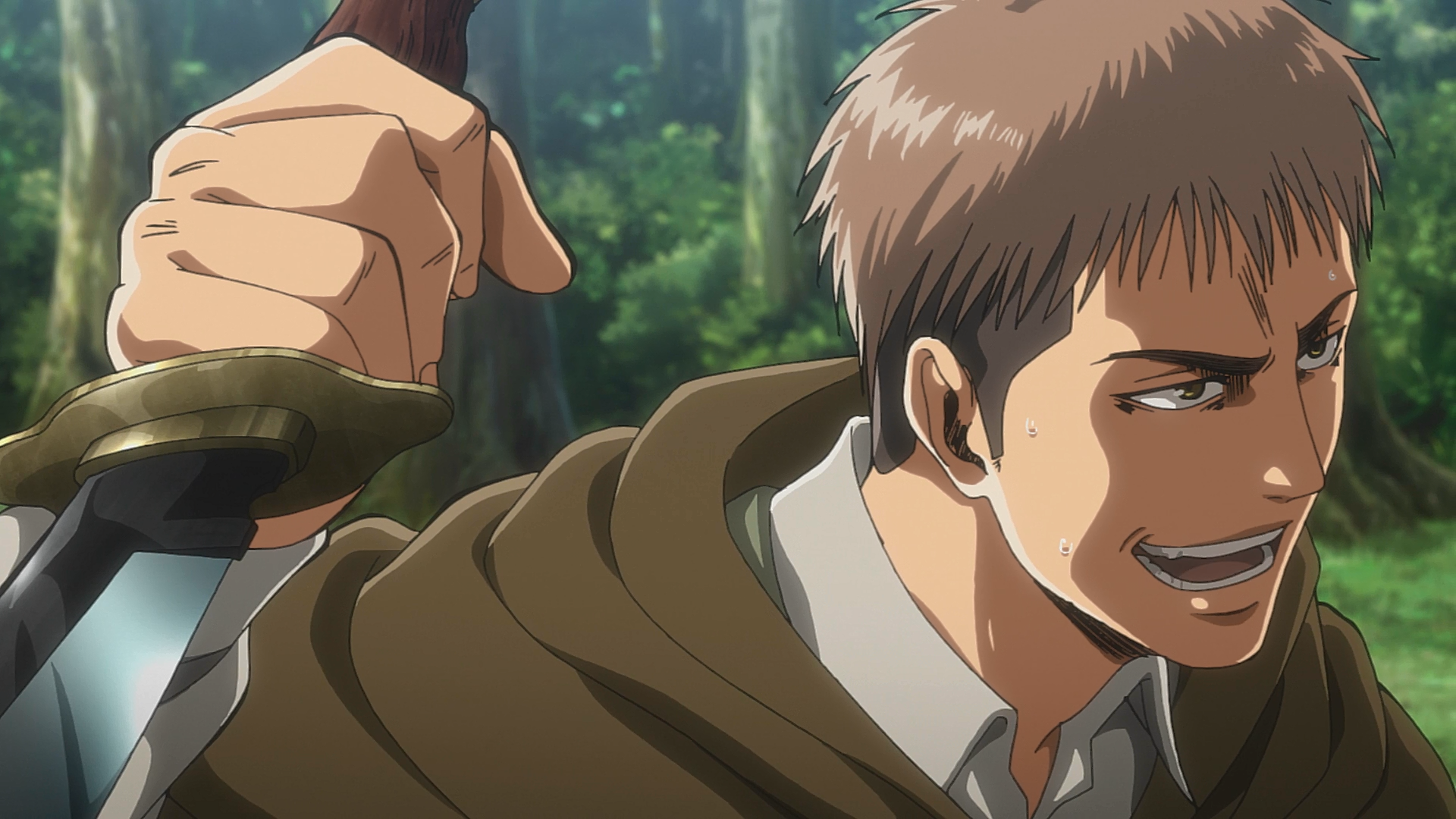 Jean Kirschtein takes pride in his height, standing at 5'9″ (175.3 cm), and often boasts about it in front of shorter characters. Even after growing to 6'2″ (188 cm) in season 4, he continues to do so.
Despite being the tallest non-shifting hero in Attack on Titan, Jean lacks the skills possessed by other characters.
Reiner Braun

Reiner stands out as one of the tallest characters in the series with a height of 6'1″ (185.4 cm) during seasons 1-3. As he is already 17 when the show starts, it is unlikely that he experiences a significant growth spurt during the time skip, similar to other characters of the same age.
Despite Reiner's Armored Titan being the same height as Eren's Titan (15 meters), his robust and plated build makes his Titan more durable and resilient.
Are you a fan of anime and looking for the best place to shop for all your favorite merchandise? Look no further than WaifuWorld! Our online store is packed with all the latest and greatest anime products, from clothing and accessories to collectibles and figures. Whether you're a fan of popular series like Naruto, Attack on Titan, or My Hero Academia, or prefer lesser-known gems, we've got you covered. So why wait? Head over to WaifuWorld today and start browsing our amazing selection of anime products. With our competitive prices, fast shipping, and top-notch customer service, you're sure to find everything you need to express your love for anime!